Jaw-Type Couplings
Jaw-Type (Jaw & Spider) couplings feature two aluminum alloy hubs with protruding lugs known as "jaws" and an elastomer "spider" insert between the hubs. Aluminum keeps the jaw coupling lightweight and decreases the moment of inertia on start and stops. The spider element's shape and design reduces reaction loads resulting from misalignment and provides electric isolation between both shafts.

Miki Pulley jaw-type couplings accept shaft misalignment while offering high load capacity and maintaining a damping effect on vibration and thermal conductivity. Each of our models offers different torque ratings and performance levels determined by the durometer of the elastomer spider, making them adaptable for everything from general purpose motor connections to demanding servo motor applications.
Fail-safe design and long service life
Transmits up to 387 ft-lbs. (525 Nm) of torque
Low reaction loads
Low to zero backlash, depending on the model
High torque capacity and torsional stiffness
Quiet operation
Easy to install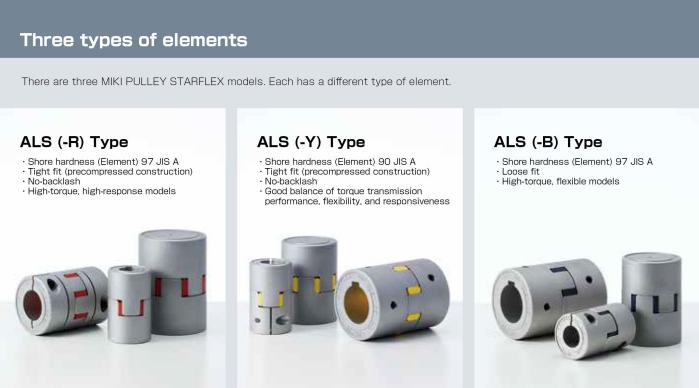 Jaw-Type Coupling Features by Model
Miki Pulley offers high-quality elastomer jaw-type couplings with a pilot bore (minimum bore) or a bored-to-size option. Select from four spider element durometers based on your misalignment capacity and performance requirements. All the elastomers used in our couplings provide good resistance to oils and chemicals.
Hub Shaft Connection Options
ALS-R, ALS-Y, and ALS-B elastomer jaw-type couplings models come with a clamp hub or set-screw/keyway hub. Our AL SprFlex couplings are offered with a pilot bore, set-screw/keyway hub, or clamp hub.
Pilot Bore: Less costly option, allowing the customer or end-user to machine the bore to their specifications.
Key/Set Screw Style: Enables a simple shaft connection, allowing for high torque transmission.
Clamp Style: Designed for easy mounting and removal, it provides a secure shaft connection. It is typically keyless, however, keyways are available upon request.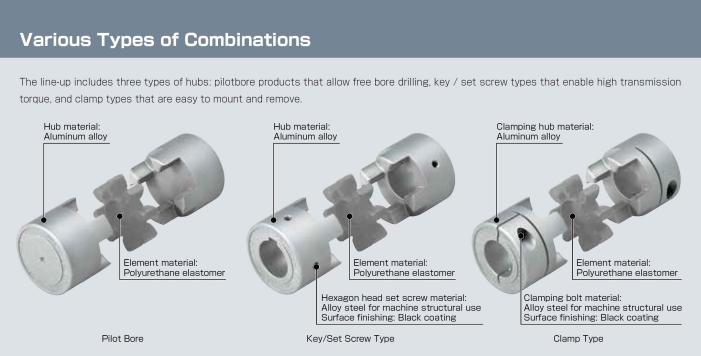 Get a Fast Quote on Elastomer Jaw-Type Couplings
We offer elastomer jaw-type couplings in various styles and options to meet your application requirements. Request a quote or contact us for additional information.