Jaw Spider Couplings




AL Model SPR Flex
This simple jaw and spider coupling features a nitrile rubber element between two sintered aluminum hubs. Using aluminum in the hubs decreases moment of inertia on starts and stops. AL couplings are available in standard bore sizes with key and setscrew, or pilot bore. Bores may also be machined to customer specifications
upon request.

Back to Top

 
---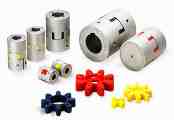 Elastomer Couplings
The ALS is a simple Elastomer coupling, with sintered aluminum hubs and polyurethane elastomer spider elements available different hardness values. Customers may choose depending on performance requirements. The profile of the element allows for pre-compression with no backlash.
Available in pilot bore, keyed, and clamp style.
This coupling may be used in applications from general purpose motor connections, to simple servo applications with high torque.
---




ALS-R Model:
The ALS-R model utilizes a 97 JIS A hardness polyurethane elastomer spider, with the spider profile and fit designed with a tight fit to allow no backlash.

Maximum working torque: 387.22 ft-lbs, (525Nm)
Ambient Temperature: -22F ~ 176F, (-30 ℃ ~ 80 ℃)

Back to Top
---




ALS-Y Model:
The ALS-Y model utilizes a 90 JIS A hardness polyurethane elastomer spider, with the spider profile and fit designed to allow no backlash. This coupling may be used in applications from general purpose motor connections, to simple servo applications with high torque. The element is of a lower hardness than the ALS-R, thereby suppressing axial reaction force.

Maximum working torque: 228.64 ft-lbs, (310Nm)
Ambient Temperature: -22F ~ 176F, (-30 ℃ ~ 80 ℃)

Back to Top
---




ALS-B Model:
The ALS-B model utilizes a 97 JIS A hardness polyurethane elastomer spider, with the spider profile designed for a loose fit.   This allows for misalignment while providing high torque transmission.

Maximum working torque:  387.22 ft-lbs,   (525Nm)
Ambient Temperature:    -22F ~ 176F,  (-30 ℃ ~ 80 ℃)

Back to Top
---