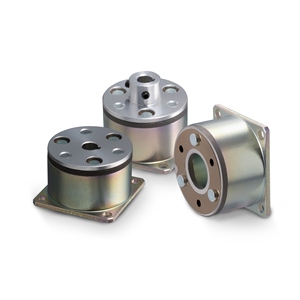 Miki Pulley micro clutches & micro brakes are ideal in small, precision equipment that is sensitive to torque changes.  These products are seen primarily in ATMs, office copying machines, weighing and packaging equipment, paper binding mechanisms, and optical machines.
With decades of application experience, our designs have been tested and refined to deliver unparalleled quality and reliability.
Contact us today to learn more!
---
112 Model Electromagnetic Micro-Brake

This space saving design combines high performance with a relatively long lifetime.  It has the same basic layout as the micro clutch, with the only difference being lack of the rotor.  It is offered in a range of sizes, with flange and shaft mount styles.  Three different armature types are available.

Brake Torque: 0.295 ft*lb ~ 1.770 ft*lb   (0.4Nm ~ 2.4Nm)
Ambient Temperature: 14 F ~ 104 F; (-10 ℃ ~ 40 ℃)
Backlash :  Zero

Back to Top
---