Resonance Damping Couplings
What is A Resonance Damping Coupling?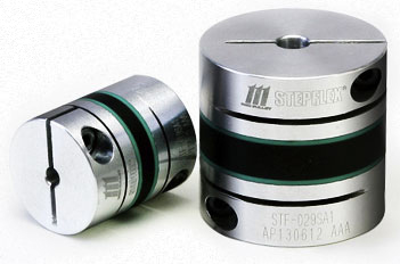 Resonance often occurs within the operating speed range of stepping/stepper motors and other motor types. Left unchecked, resonance can cause negative effects within equipment such as excessive noise and destructive vibration. A resonance damping coupling, or resonant coupling, is a rotational power transmission device that is specially engineered to combat vibration and resonance between two joined shafts. Their design and construction combine to effectively suppress the resonance phenomenon that can plague these motors, particularly at higher operating speeds.


Miki Pulley's Step-Flex Resonant Couplings
Ftep-Flex dual rubber resonance damping couplings feature an innovative laminated rubber element which achieves high damping with low reaction force. They dampen vibration more effectively than flexible couplings that use metal in their intermediate elements. This enables resonance to be mitigated over a wide range of operating speeds and provides stable high-speed control, with zero backlash.
Step-Flex resonant couplings feature a unique, unitized construction with a flexible HNBR (black) rubber element flanked by smaller, softer, laminated green rubber spacers. The use of rubber element of different durometers significantly reduces counterforces generated by misalignment, which can greatly reduce the load on the partner shaft and bearing.
The Step-Flex design eliminates the need for feedback loop controls in ball screw applications. Machined aluminum hubs offer a low moment of inertia, and are available in clamp style bores.
Benefits of Step-Flex Resonance Damping Couplings
Excellent Damping Performance
The laminated rubber element provides better damping performance than standard metal disc couplings.
Reduces Shaft Counterforce
The use of a flexible element with varying durometers of laminated rubber works to dramatically decrease counterforces generated along the parallel and axial directions.
Enables Higher Gain
The enhanced damping effect of Step-Flex couplings provides a higher gain margin than metal plate-spring type couplings, and helps boost gain in the device.
Step-Flex Coupling Features
Zero backlash
High damping characteristics
High response
High flexibility
Easy to mount and remove
Maximum working torque: 44.25 ft/lb. (60 Nm)
Bore range (mm): ø3 ~ 30
Operating temperature range: -20° to 80°C (-4° to 176°F)
Common applications: encoders, semiconductor manufacturing equipment, ball screw actuators, etc.
Patent pending design
Problems Solved by Step-Flex Resonant Couplings
Stepper Motor Resonance
Stepper motors resonate at certain rotational speeds due to the pulsation frequency of the motor and the natural torsional frequency of the system as a whole. Step-Flex couplings can reduce or eliminate motor resonance thanks to their damping laminated rubber elements.
Servo Motor Oscillation
A servo motor's gain adjustment may cause it to oscillate during operation. This oscillation can cause problems, particularly with the overall natural frequency and electrical control systems of the feed screw system. To resolve these issues, the torsional stiffness of the coupling and the feed screw section, the moment of inertia, and other system characteristics must be adjusted. The damping effect of Step-Flex couplings' laminated rubber elements makes them an effective coupling solution.
Contact Us for Resonance Damping Couplings
Miki Pulley offers a full line of Step-Flex resonant couplings, with torque ratings and bore diameters to fit a wide range of devices and applications. Request a quote on the resonance damping coupling you need, or contact us for more information.