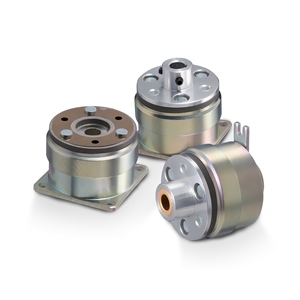 These micro clutches and brakes are ideal for compact precision equipment where variations in torque and response must be avoided, such as office, communications, and automobile equipment.
In addition to the 102 (clutch) and 112 (brake) models, which share the same basic design, we also provide the CYT model (clutch), which has a long history of customization to customer needs.
Contact Us for Electromagnetic Micro-Clutches
Contact Miki Pulley today or request a quote for more information.
---
102 Model Electromagnetic Micro-Clutch

This model is offered in a range of sizes, with flange and shaft mount styles.  Three different armature types are available.  This space saving design combines high performance with a relatively long lifetime.

Brake Torque: 0.295 ft*lb ~ 1.770 ft*lb   (0.4Nm ~ 2.4Nm)
Ambient Temperature: 14 F ~ 104 F; (-10 ℃ ~ 40 ℃)
Backlash :  Zero

Back to Top
---
CYT Model Electromagnetic Micro-Clutch

The CYT design allows for the stator to be easily mounted to the shaft.  The armature may be configured with or without internal bearings, depending on the radial load and nominal speed.  Further custom variants can be realized by pairing  a sprocket, timing pulley, v-belt pulley or shaft to the armature.

Brake Torque: 0.295 ft*lb ~ 0.738 ft*lb   (0.4Nm ~ 1.0Nm)
Ambient Temperature: 14 F ~ 104 F; (-10 ℃ ~ 40 ℃)
Backlash :  Zero

Back to Top
---