Automated Mobile Robots Components by Application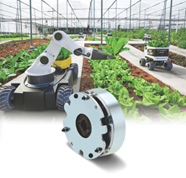 Miki Pulley Offers Power Off Brakes for AMRs Across Most Industries
AMRs offer 24/7 asynchronous transportation capabilities and allow for automated transporting, picking and sorting in warehouses and industrial operations. In order to ensure safety and optimize the efficiency of AMRs, it is imperative that AMRs are equipped with high quality brakes and components. Miki Pulley is a manufacturer of premium clutches and brakes that are used in a range of high-performance applications within various motion control industries worldwide. Since the BX models are power–off engaged brakes, they do not consume power when stationary – only when in motion. This optimizes battery power management, a very important factor in mobile robots. Our brakes help ensure worker safety and improve AMR flexibility to help your operation become more profitable. Whether it's Factory Automation Equipment or Materials Handling, we have a solution to meet your needs.
Browse Miki Pully BX & Power Off brakes by industry below,
Request a quote
 for your motion control products or
Contact us
 today to discuss your speed control requirements.
Brakes For AMRs by Industry
Logistics
Miki Pulley's
BX brakes
are popular in AMRs that focus on material handling and transportation. This can extend to distribution centers, warehouses, assemblies, line-side supply and delivery and more. Our brakes are frequently used with autonomous forklifts subject to long operation cycles and high repeatability.
Retail
Our brakes are often used in AMRs that transport products in a facility, sort items and assist in picking processes. They can also aid in restocking shelves, cleaning floors and providing assistance to customers in retail stores. By using brakes that ensure efficient automated operations, you can better optimize work output in your retail facility.
Agricultural
Miki spring actuated brakes
offer controlled positioning and emergency braking on agricultural AGV's, while keeping energy economy in check.
Manufacturing Automation
Miki Pulley is a trusted distributor of brakes used in AMRs in machine tending, assembly and inspection in manufacturing plants. Our brakes hold up to the rigorous demands of manufacturing processes, from small pick and place operations to heavy duty assembly.
Brakes For AMRs & AI-Guided Vehicles
Our brakes are electrically actuated but are specifically designed to halt & hold torque mechanically. Miki Pulley provides precision-engineered brakes, 
shaft couplings
, and 
clutches
 for industrial robotics. Featured BXR Model Brakes include:
Miki Pulley AMR Brake Advantages
With decades of experience, our designs have been tested and refined for unparalleled quality and reliability. Our brakes feature high holding torque and stable, reliable braking power. Miki pulley provides spring actuated
EM brakes
in different variants, including slim profile / low-weight designs. 
Electrically Actuated (Power-On) Brakes
 are ideal for applications requiring quick stops and are offered in shaft or flange mounting styles. Additionally, our
Electromagnetic Micro-Brakes
 have a compact design for small precision equipment such as ATMs, copy machines and optical machines, where fluctuations in torque and response cannot be tolerated.
Automated Mobile Robot Brake Applications
With offices, production facilities and partner companies across the globe, we have experience sourcing brakes for AMRs and other robotic components for Automated Mobile Robots, Automated Guided Vehicles and additional equipment in most industries. Specific machinery includes but is not limited to:
Linear Motion Z-axis
Robotics
Servo and Stepper Motors
Factory Automation Equipment
Packaging and Food Processing Equipment
Material Handling Equipment
Gaming Equipment
Contact Us for AMR Brakes
Miki Pulley clutches, brakes and other speed control components are used by various industries for 
pumps
, 
robotic arms
, 
CNC machines
, 
printing machines
, packaging machines, stepper/servo motors, and much more.
Request a quote
 for your motion control products or
Contact us
 today to discuss your speed control requirements.